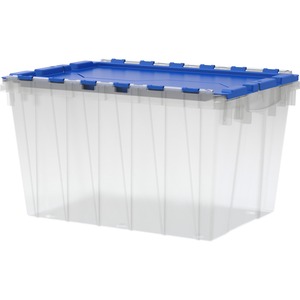 Akro-Mils KeepBox Container with Attached Lid External Dimensions: 21.5" Length x 15" Width x 12.5" Height - 12 gal - Hin
Min. Order Qty: 1
Keep Box is ideal for all household storage needs. Clear bottom allows instant identification of contents. Lids are attached with full-length steel hinge pins for durability. Secure the interlocking lid with wire tie or padlock (both sold separately) by using the hole in the edge of the lid directly above one of the handles and a corresponding hole in the storage box. Ergonomic handles make carrying easy, even under a full load. Unique rib design prevents jamming when nested on store shelves. Nesting feature makes it easy to safely store any household item inside the Keep Box and take up less storage space.
Portable Storage Files & Bins
Accessibility
Storage Case
Application/Usage
Apparel
Weight Capacity
Akro-Mils
Total Number of Compartments
12.5"
Maximum Screen Size Supported
12 gal