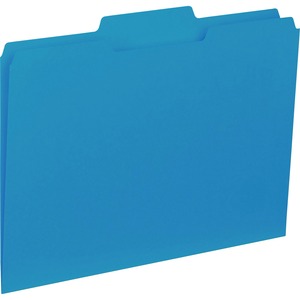 Business Source 1/3-cut Colored Interior File Folders Letter - 8 1/2" x 11" Sheet Size - 1/3 Tab Cut - Top Tab Location - Assorte
Min. Order Qty: 1
Interior file folders are specially designed to separate groups of papers inside hanging folders or to transfer papers from files to desk. Slightly shorter than standard file size, they don't obscure hanging folder tabs. File folders are made of sturdy 11 point stock for long-lasting durability. Assorted 1/3 cut tab positions allow more than one interior folder to be used within a single hanging folder. Tabs are single-ply.
Top Tab Colored Folders
Brand Name
Business Source
Material
Top Tab File Folder
Product Type
Top Tab File Folder
Packaged Quantity
Business Source
Tab Location
Assorted Position
Number of Fasteners
11" Length
Cut Position
Assorted Position
Environmentally Friendly
11 pt.