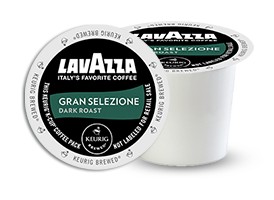 Lavazza Gran Selezione K-Cups - Dark Roast - 22 K-Cups/Box,4 Boxes/Case
Min. Order Qty: 1
Gran Selezione comes exclusively from Rainforest Alliance Certified coffee farms. Made with Arabica beans, this full-bodied blend features intense flavor and chocolate undertones. 100% fine Arabica, 100% sustainably grown.This remarkable coffee blend comes from Central and South America beans that are carefully roasted to perfection. This full-bodied coffee has notes of chocolate and a rich, velvety finish.
About Green Mountain Coffee®
A great tasting cup of coffee can give you a whole new perspective. It's a moment to pause, reflect, and reprioritize. That moment is what inspires us to make coffee that benefits everyone it touches. From carefully sourcing and roasting the highest quality beans, to supporting small farms and reducing our environmental impact, we focus on what's important. That's why we believe a good cup of coffee can change your day … but a great cup of coffee can change the world.