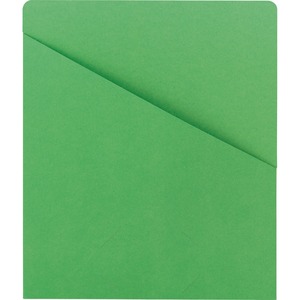 Smead Organized Up Slash-Style File Jackets Letter - 8 1/2" x 11" Sheet Size - 1 Front Pocket(s) - 11 pt. Folder Thickn
Min. Order Qty: 1
Slash jacket is ideal for paperwork that is constantly being accessed and reorganized. Provides sturdy page holders that have closed sides to keep materials secure and in order. The front is angled for viewing documents while keeping papers flat in the jacket. Pocket is slit to accept business cards. Punch the left edge and use as pocket dividers in ring binders. Or use to keep paperwork organized in a briefcase. Slash jacket offers 11 point stock, angled front and rounded top corners on the back panel. Closed on both sides and bottom. Holds 8 1/2" wide x 11" high papers.
Color Jackets
Packaged Quantity
25 / Pack
Number of Fasteners
11" Length
Total Number of Pockets
1
Cut Position
8 1/2" Width
Environmentally Friendly
11 pt.
Sheet Size Horizontal
8.50" Width
Sheet Size Vertical
11" Length